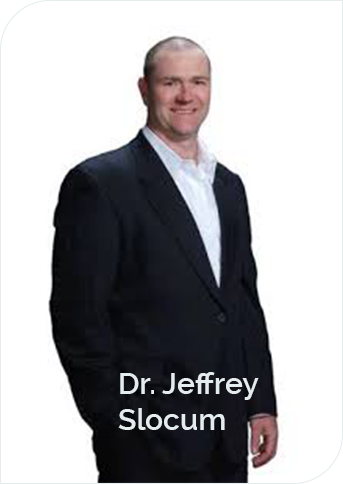 Meet Dr. Jeffrey Slocum
A fourth generation chiropractor (number 11 in his family!), Dr. Jeff always wanted to be in the healthcare profession. "I knew that I didn't want to give drugs or surgery; my goal was not to treat people who have sickness or disease, but to help them create optimal well-being. Chiropractic was the perfect fit."
Carrying on a Logan Legacy
As so many of his family members graduated from Logan College of Chiropractic in St. Louis, Missouri, it made sense that Dr. Jeff pursue his chiropractic education there.
"It was quite cool to be able to walk through the hallways with my fellow students and show them 11 graduation pictures of my family. My grandfather and three of his brothers and his father all used the GI Bill to graduate from Logan in the 40s. There were a lot of faculty members who had graduated with either my father, my uncles or my aunts. Logan felt like home away from home."
Building Relationships With Practice Members
Witnessing the relationships that he saw his father build with his practice members in the community inspired Dr. Jeff. "Wherever he went, he'd get hugs, high-fives and handshakes. I liked hearing their stories of how their life changed and how much they appreciated the influence that my father had in their lives and the role he played in helping to create a life that was more meaningful for them."
Challenging the Conventional Medical Model
As one of Dr. Jeff's five chiropractic vitality centers, Bangor Family Chiropractic challenges the model that health care is about sickness. "I want to dispute that paradigm and work with people that are ready to make a defined commitment to create their health by adopting lifestyle changes."
In addition to developing the chiropractic vitality centers and hiring and training multiple partners and several teams, Dr. Jeff has worked as a leader in the profession. He's spoken nationally and internationally and developed seminar series. He's used his knowledge and experience to create a form of care that's going to provide the most value and the most impact for his practice members. He's also written a book called, "My Life Well Adjusted, a Life Worth Living."
OUR SERVICES »
Enjoying an Active Family Life
When he's not at the practice, Dr. Jeff enjoys spending time with Debbie, his wife of almost 20 years; she hails from Lee, Maine. They have three children: Bella, Amelia and Andrew. Bella is currently studying pre-chiropractic at the University of Maine. She'll be the 12th member of the family to practice chiropractic. Amelia hopes to become a teacher and Andrew is an avid hockey player.
The family enjoys spending time camping at the lake in Lincoln, Maine. They also like to hike and try to live life to the fullest and have the experiences that expand their concept of life.
Contact our Bangor practice today to book an appointment with Dr. Jeff!
---
Chiropractor Bangor | (207) 307-7513