New Practice Members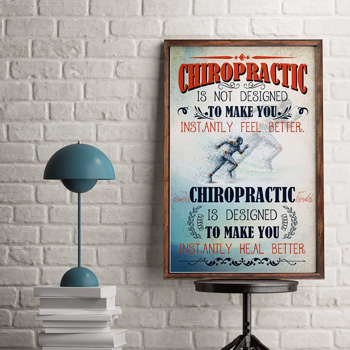 Welcome to Bangor Family Chiropractic, an upbeat, fun, yet always professional practice where you'll enjoy visiting. Our office features an open, airy style. You may even find Dr. Jeff singing or dancing. At the end of each appointment, he gives patients a choice to get a hug, a high-five or a handshake! We think you'll love the welcoming energy and positive vibe here.
While we don't take ourselves seriously, we always take our practice members' health seriously. The necessary intake forms can be downloaded from our website and brought in with you completed to save time. You also can fill out the paperwork when you arrive.
The First Visit
We encourage you to come to this appointment with a vision that you can be healthy, a desire to follow a plan that's been proven, and a commitment to work with us to accomplish their goals.
At this visit, you'll meet with Dr. Jeff to have a consultation followed by a comprehensive examination. We usually send out for X-rays.
This initial appointment takes 30 minutes.
The Second Visit
At this appointment, which will usually take place 1-2 days after your first visit, Dr. Jeff will review your report of findings and go over your X-ray findings. If you choose to accept care, you'll receive your first chiropractic adjustment. Dr. Jeff also will schedule your first phase of care at this time up to your first re-exam.
This visit usually takes 20 minutes.
The Third Visit
We will discuss what your financial investment will be at this appointment. You will be given options of how you can invest in your care. We'll go over your insurance information and whether it covers chiropractic care or not. The full scope of your investment will be addressed, and we will present ways that you can choose to schedule the payments for your care.
Frequency of Care
If you are coming in for purely full-scope chiropractic, routine visits are five to 10 minutes. With acute care we schedule people with the highest frequency, but the shortest duration of the care phases. When we get to a point where we see objective measurements—that you're moving toward greater health and wellbeing—we'll graduate you to the second phase of care. This phase is the rehabilitative stage. You would come in less often but for a longer duration.
The final phase where the most healing happens and the greatest long-term health advantage comes from is wellness care. This type of care is more of a lifestyle and indefinite. If you want to maintain a healthy spine and nervous system, you'll come in with the least frequency, but the duration can be for a lifetime.
If you'd like to fulfill your vision of being healthy, contact our Bangor practice today to book an appointment with Dr. Jeff!
CONTACT US »
---
New Practice Members | (207) 307-7513